—
The Carers Employment Support Program
at Yarraville Community Centre
supports unpaid carers in finding training and work
that is compatible with their duty of care.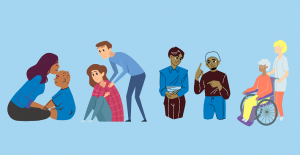 Many people play a role in caring for family or friends who are suffering
from a long-term illness or disability. The duty of care can be hard.
Moreover, unpaid carers need to balance their duties of care with
the demands of work, volunteering, well-being or training.
Our Carers Employment Support Program supports unpaid
carers in finding training ,work , recreation and/or volunteering options that are
compatible with their caring commitments. Each carer benefits from individual
coaching support from our team.
The program helps carers by:
Working together to understand their situation, obligations, and life goals
Identifying actions to improve their own health, wellbeing and community participation
Co-designing a learning and achievement plan
Exploring employment and career options by specialised job advocates and career counsellors
Finding options for learning and skills development, including confidence building and core work skills
Social and recreation events
Are you a carer?
Download the brochure for more information email:  [email protected] or call 9687 1560
This program is a partnership with Neighbourhood Houses Victoria
and Carers Victoria, with funding by The Victorian Government –
Department of Families, Fairness & Housing.