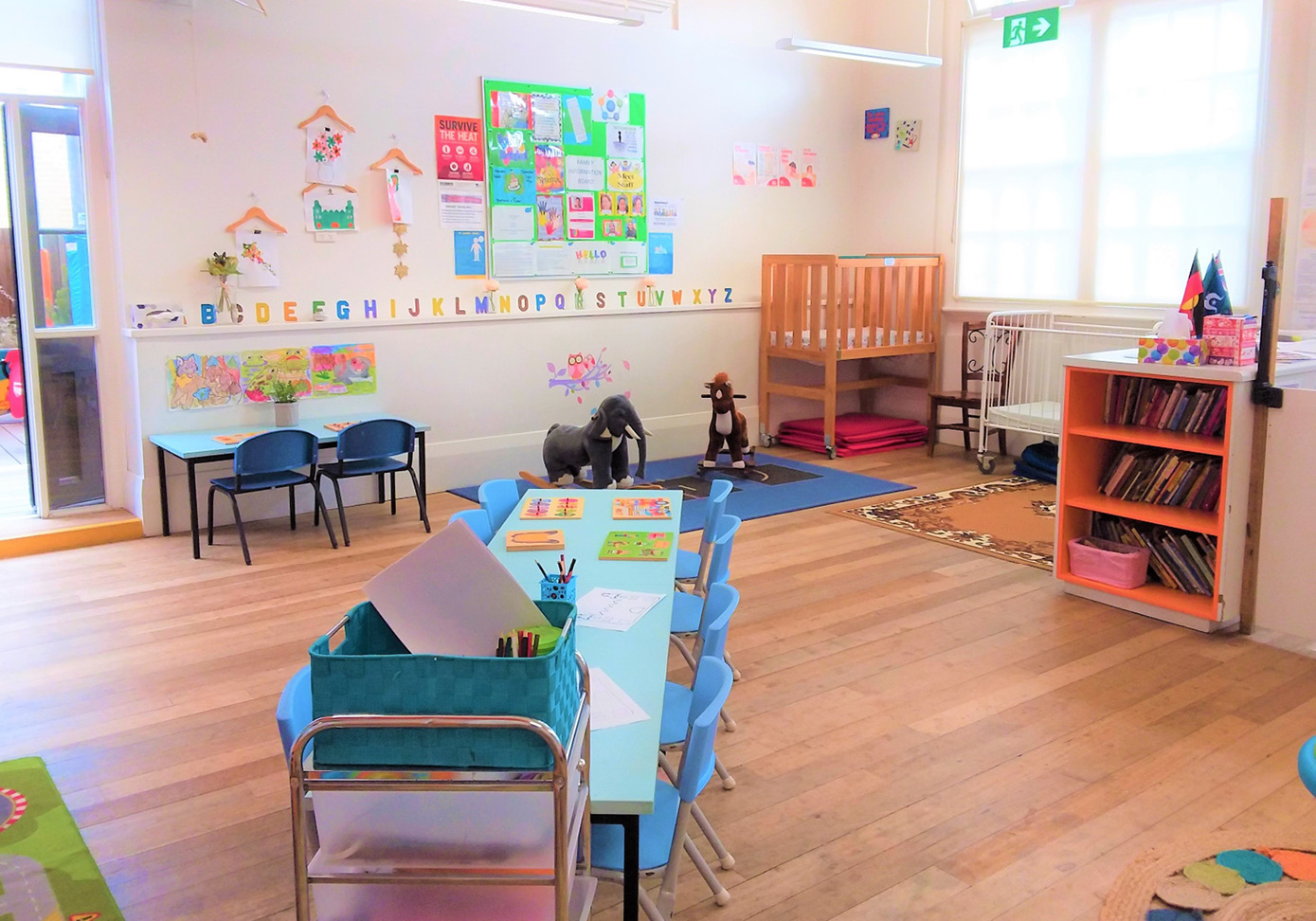 At YCC, we offer high quality, affordable childcare in a happy, safe and healthy environment for children aged from 6 months to 5 years.
Our stimulating and inclusive programs allow children to enjoy an extensive range of age-appropriate activities. With many years of experience in childcare, our fully qualified educators continue to update their skills through professional development.
Our 3-year-old pre-school kids' programs help children prepare for kindergarten and school. They provide opportunities for socialisation and develop independence and self-reliance.
We encourage community involvement and parent participation at our Francis Street and Blackwood Street sites. If your child has a particular interest, let us know and we will try to incorporate these interests into our program. If you (or someone you know) have any specific skills such as art, cooking, music, dance or more, please contact us. The children would love to have you visit and share your skills.
Please call us on 9687 1560 to arrange a visit and tour of our childcare services.
Please note that our childcare programs do not run during school holidays or on public holidays.
Our childcare meets all government regulations.
See session times below.
Parent Testimonials
Kimberly
"I highly recommend the YCC Occasional Child Care! Their wealth of experience and caring nature made my son's transition into childcare a positive experience (and gave this first time mum a few tips along the way too). They have survived and thrived through endless lockdowns and restrictions, so a big thank you to the team at YCC!""
Lauren
"My daughter started at YCC when she was eight months old and it has been a really positive experience for both of us. She loves her three days per week at childcare and frequently comes home with new skills (and lots of impressive art and craft!). This has made it so much easier for me going back to work knowing she is in good hands. The staff get to know the children really well and there is just a lovely community feel about the centre. Thanks YCC!"
Caroline
"Our children have gone to the YCC Occasional Care on Francis St for two years now. It is a fantastic, caring centre. There has been little to no turnover of staff in that time and both boys have developed strong relationships with the carers there. They always have interesting craft and other things for them to do. Lots of themed play and role play. A wonderful, safe, place that we see as an integral part of their sense of belonging within our community."
Session times
Francis Street
Monday – Friday 9.15am – 2.15pm
Blackwood Street
Tuesday & Wednesday 9.30am – 2.30pm
Further information
See our Childcare Handbook for policies and other relevant information.
Costs
Please call YCC for costs of casual and term bookings.
How to book
To book a childcare place, call 9687 1560 to find out about current availability. Download or drop in to pick up our Childcare Handbook then:
Download a

Childcare Enrolment Form

, type in your details to complete the form and email, post, fax it to us OR
Drop in to our office at 59 Francis Street, Yarraville.
Please note: Bookings for childcare cannot be made online.
A copy of your child's immunisation record is required before confirmation of enrolment. We cannot accept a conscientious objection to vaccinate and we are legally obliged to refuse enrolment.
https://www.ycc.net.au/wp-content/uploads/2019/06/Childcare-and-Pre-School-Kids-Handbook-2019.pdf
How to pay
Payment for your childcare place must be made in advance and can be made in two equal payments for term bookings.
You can make your payments in a number of ways:
Online (telephone our office on 9687 1560 first)
By post (cheque or money order)
Over the phone (credit card)
In person at 59 Francis Street, Yarraville.
Activities for kids
YCC also offers a range of short courses for children, including creative dance, drama and cooking.
What's on
As part of the National Simultaneous Storytime (NSS) event, children at Yarraville Community Centre childcare were delighted by an intergalactic experience, enjoying story time read by astronaut Dr Shannon Walker from the International Space Station! Read more