At YCC, we offer high quality, affordable childcare in a happy, safe and healthy environment for children aged from 6 months to 5 years at 59 Francis Street, Yarraville. Permanent and casual places available.
Our community childcare is a fun and welcoming place for children to play, grow and socialise. We have a nurturing and family-like environment that many of our families choose as the first place their children have been outside of the family. We take this privilege very seriously and love getting to know each child while supporting children's learning and development through the Victorian Early Years Learning & Development Framework.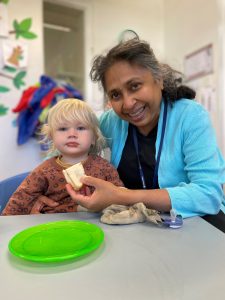 We are unique in our inclusive care setting where our children are not divided into age groups or separate rooms. The result is a learning environment where all children are connected, included and supported.

Parents and carers may enrol for a maximum of 15 hours per week (offered as 5 hour days, maximum of 3 days) Monday – Friday.

We offer both casual and permanent positions, however, most of our children are booked into permanent places each week with the same children and carers.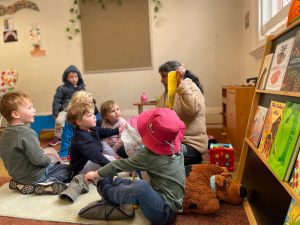 The program is an indoor/ outdoor program designed to allow children the freedom of choice, to explore the environment, and develop self-expression, confidence, and awareness.

Please call us on 9687 1560 to arrange a visit and tour of our childcare services.
Please note that our childcare programs do not run during school holidays or on public holidays.
Our childcare meets all government regulations.
We are ensuring that our services meet the Department of Education's advice on COVID-safety. 
Meet the team here
Virtual Tours
59 Francis Street, Yarravile
(Occasional Childcare)
We offer high-quality, affordable childcare in a happy, safe and healthy environment for children aged 6 months to 5 years. There is an option to book permanent positions for your child each week. 
Visit the centre virtually here
Parent Testimonials 
Kimberly
"I highly recommend the YCC Occasional Child Care! Their wealth of experience and caring nature made my son's transition into childcare a positive experience (and gave this first time mum a few tips along the way too). They have survived and thrived through endless lockdowns and restrictions, so a big thank you to the team at YCC!""
Lauren
"My daughter started at YCC when she was eight months old and it has been a really positive experience for both of us. She loves her three days per week at childcare and frequently comes home with new skills (and lots of impressive art and craft!). This has made it so much easier for me going back to work knowing she is in good hands. The staff get to know the children really well and there is just a lovely community feel about the centre. Thanks YCC!"
Caroline
"Our children have gone to the YCC Occasional Care on Francis St for two years now. It is a fantastic, caring centre. There has been little to no turnover of staff in that time and both boys have developed strong relationships with the carers there. They always have interesting craft and other things for them to do. Lots of themed play and role play. A wonderful, safe, place that we see as an integral part of their sense of belonging within our community."
Session times
Francis Street
Monday – Friday 9.15am – 2.15pm
Our license allows us to book children for up to 15 hours (3 sessions) per week. Most families book permanent places but casual care may be available.
Further information
See our Childcare Handbook for policies and other relevant information.
How to book
To book a childcare place, call 9687 1560 to find out about current availability. Download or drop in to pick up our Childcare Handbook then:
Download a

Childcare Enrolment Form

, type in your details to complete the form and email, post, fax it to us OR
Drop in to our office at 59 Francis Street, Yarraville.
Please note: Bookings for childcare cannot be made online.
A copy of your child's immunisation record is required before confirmation of enrolment. We cannot accept a conscientious objection to vaccinate and we are legally obliged to refuse enrolment.
Fees
Permanent Occasional Childcare Fees
$63 per day. Concession $53 per day. (Pay in one or two installments per term). 

Casual booking per session
$66 per day. Concession $53 per day. 
Permanent bookings can only be accepted if accompanied by an upfront payment in advance.