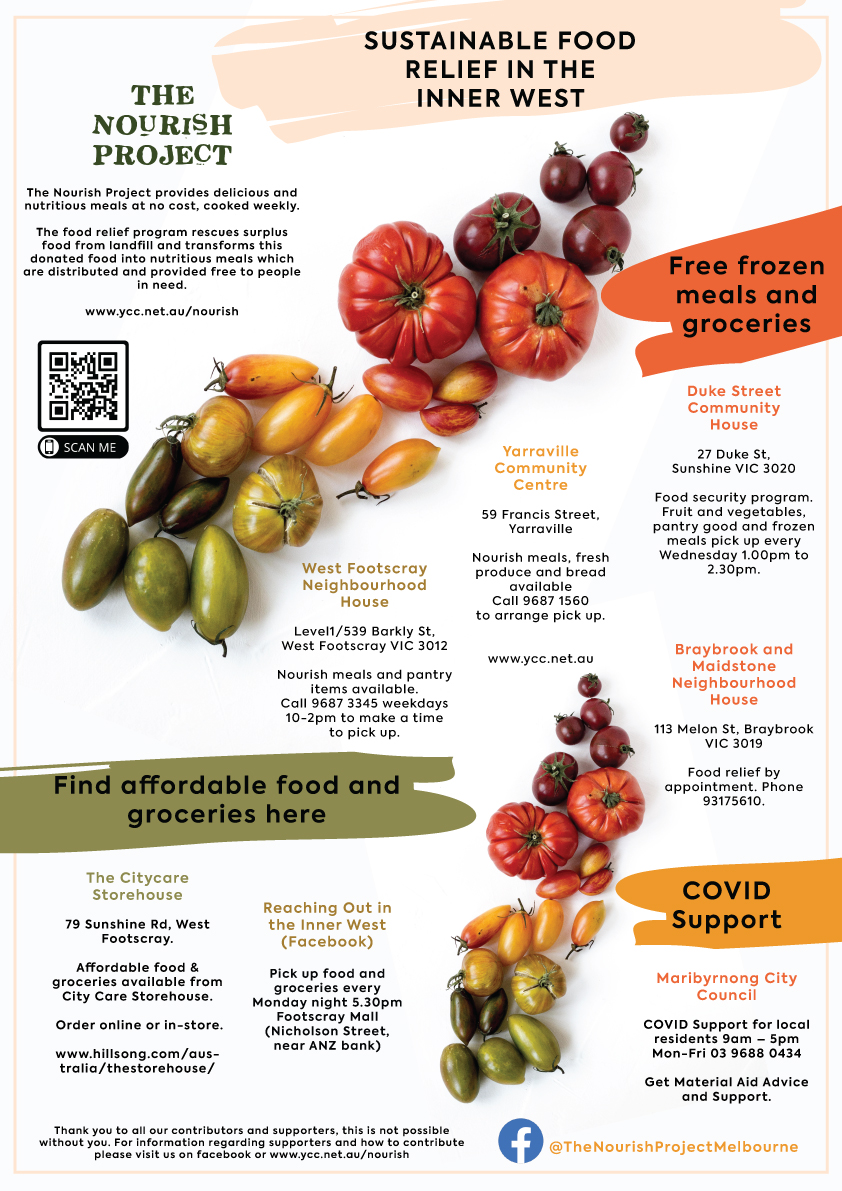 A number Neighbourhood Houses, non for profit organisations and small businesses in Melbourne's inner west are providing free nourishing meals or discounted groceries to help the community get through and past this pandemic together.
The Nourish Project
The Yarraville Community Centre's food relief program, The Nourish Project, has already provided over 3000 meals this year to the local community and rescued over 1.4 tonne of food from ending up in landfill over the last three months. 
The Nourish Project provides delicious and nutritious meals at no cost, cooked weekly. Here are the locations you can find The Nourish Project's free meals:
Other Free Meals and Affordable Groceries
Reaching Out in the Inner West (Facebook group)
Pick up food and groceries every Monday night 5.30pm Footscray Mall
(Nicholson Street, near ANZ bank)
The Citycare Storehouse
79 Sunshine Rd, West Footscray.
Affordable food & groceries available from City Care Storehouse.
 Order online or in-store.
www.hillsong.com/australia/thestorehouse/
Covid Support
Get Material Aid Advice and Support from Maribyrnong City Council
COVID Support for local residents 9am – 5pm Mon-Fri 03 9688 0434
"All Victorians deserve to live healthy happy lives regardless of their postcode, bank balance or their cultural background and we aim to strengthen community engagement and foster wellbeing with numerous free initiatives that our community can easily access", says CEO Christine McCall, CEO The Yarraville Community Centre.
Whether it's helping people stay connected, providing free nourishing meals or help to access financial support, The Yarraville Community Centre's aim is to be responsive to community needs and provide opportunities that build resilience and community connections.